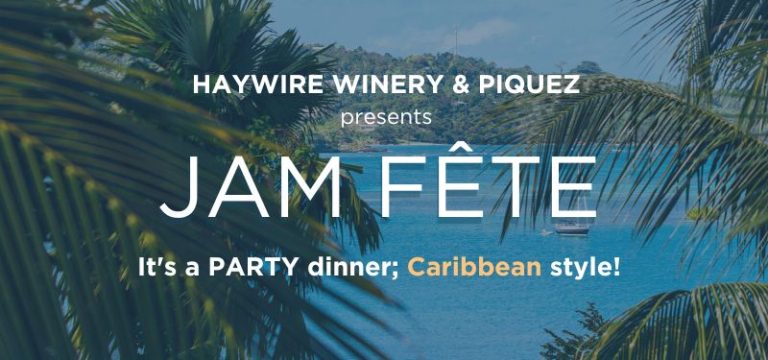 Experience a Caribbean Party Dinner Like Never Before!
19th August, 2023  |  6:00 PM to 9:30 PM
Get ready to sway to the rhythm, savour the flavours, and let loose at JAM FÊTE. Haywire Winery and PIQUEZ proudly present an evening of pure indulgence, bringing the vibrant spirit of the Caribbean to Summerland, BC, on August 19, 2023.
🍹 Sip, Savor, and Celebrate! 🍹
Indulge in a sparkling welcome reception, get to know fellow diners, and enjoy the music before settling in for an authentic three-course dinner, perfectly paired with Haywire's exquisite wines. From the tantalizing spices of Jerk Chicken to the mouthwatering goodness of Oil Down, each dish will transport you straight to the sun-kissed islands. Vegetarian guests can relish a delightful option featuring curried potatoes and chickpeas.
🎵 Groove to the Caribbean Beats 🎵
After satisfying your appetite, it's time to set the dance floor on fire! Our energetic DJ will keep the beats pumping throughout the evening., ensuring you dance, laugh, and create unforgettable memories in true Caribbean style.
🎟️ Secure Your Spot Now! 🎟️
Tickets for this extraordinary Caribbean affair are $95, plus gratuity and taxes. Hurry, as spaces are limited and selling fast! Gather your friends, family, or that special someone, and embark on a journey to paradise!