Centre Stage
Haywire Today
After 14 years under the umbrella of Okanagan Crush, Haywire is finally taking stage with a bold, brand new look that is hitting the market this year. A modern tasting lounge has been constructed adjacent to the crush pad and cellar that offers views of Okanagan Lake and Switchback Organic Vineyard. Visitors will be able to relax year-round and enjoy our wine together.
A Different Approach
Raised in Concrete
Concrete tanks are the perfect vessel for the style of wine we aim to make. The central Okanagan area is the ideal place for cool climate varieties such as pinot noir, gamay, pinot gris and chardonnay. We don't rush the winemaking process using low intervention methods to create fruit-forward wines with a fuller textured mid-palate and a finish that goes on and on.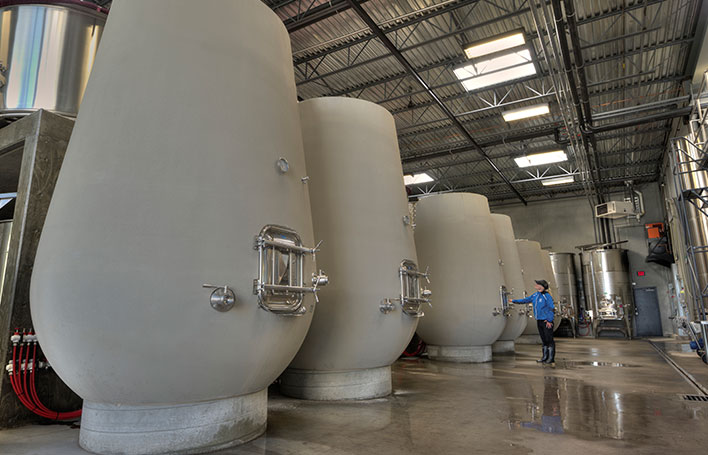 As a team, we all place a high value on sustainability and land stewardship. It should be no surprise that our Estate Vineyards, overseen by Haywire's Viticulturist, Duncan Billing are entirely organic. Both Estate Vineyards are in Summerland, with Switchback Vineyard located on the Haywire property and Garnet Valley Ranch at the North end of Summerland.
Discover Our Brands
Haywire and Friends
The Haywire winemaking facility is home to four other unique wine labels that live under the umbrella of Okanagan Crush Pad. From time to time, they may make an appearance at the tasting bar or in our wine club packages. These brands include Free Form, Narrative, Bizou & Yukon and Garnet Valley Ranch.