The Natural Way
Our Approach
While the use of winemaking additives has always been minimal, the winery has continued to eliminate these. The team now counts on organic grapes, which can support fermentation using native yeast alone. The rare use of oak in the cellar is limited to old neutral French puncheons that do not impart flavour. Sulphur dioxide is only used sparingly, if at all. All of these components allow us to make wines that are symbolic of our spectacularly beautiful winegrowing region. Light, juicy, great texture and structured wines that are not masked by oak flavours.
Sister Brands
Friends of Haywire Winery
Shaped By Nature
Free Form
Created in pursuit of "wines of place", this series celebrates the inherent difference and pleasure of each vintage. Each wine is one-of-a-kind, never to be repeated.
Free Form wines are made from organic grapes, native yeast and free of additives. These wines are left to find their own course under the watchful eye of winemaker Matt Dumayne. Wines are fermented in concrete tanks or clay amphorae. Extended skin contact is used, followed by a gentle pressing and further rest before bottling (free of rough handling and commercial additives, and little to no sulfites).
Shop Free Form Wines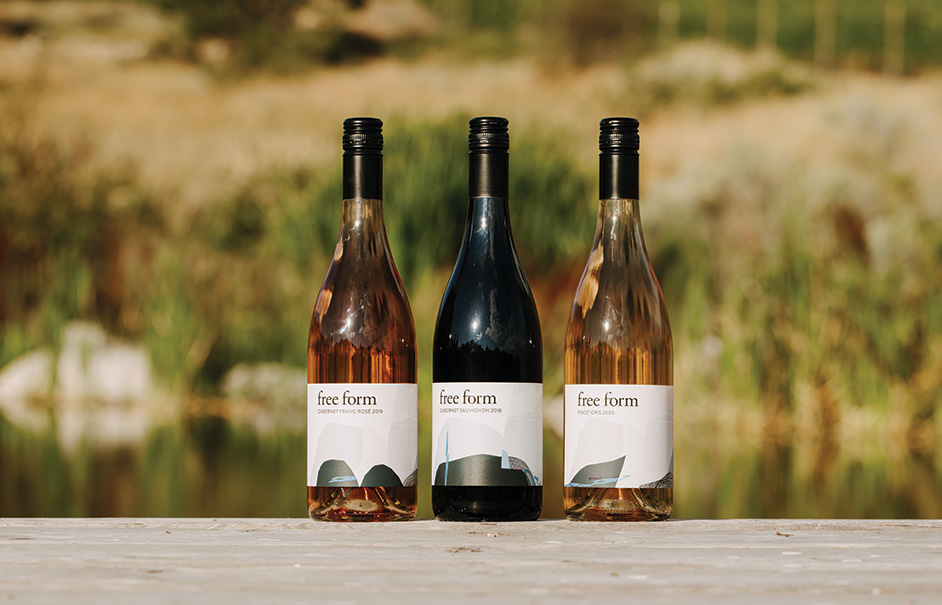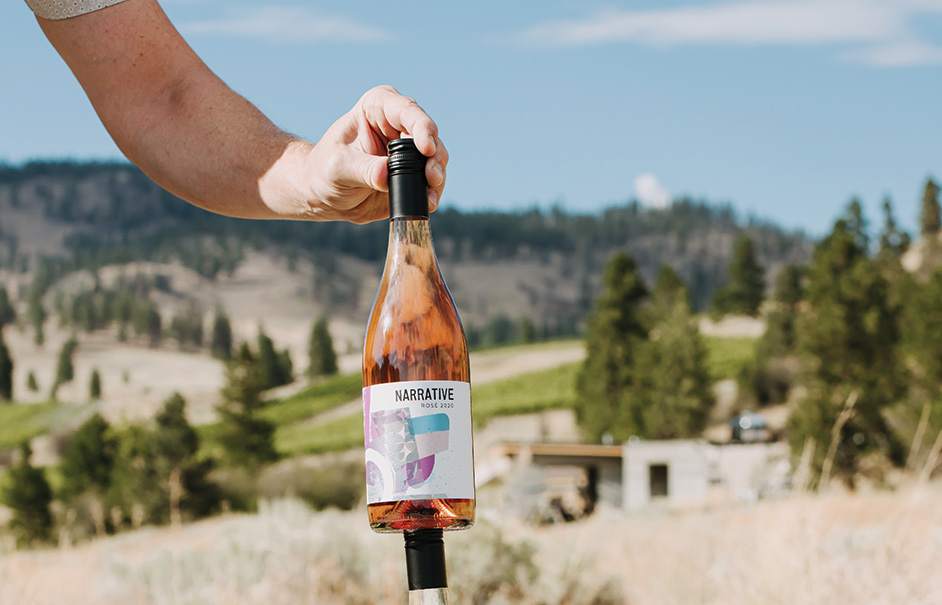 A Story Worth Sharing
Narrative Wines
Narrative is a collection of wines that tells the story of what is most exciting about the Okanagan Valley: geological and climatic diversity in a wine region that spans 120km from north to south. Using grapes from various vineyards throughout the valley, winemaker Kat D'Costa is able to share more diverse varieties and flavours each year.
Signature wines include Pinot Blanc, Chenin Blanc, Cabernet Franc, a premium red blend Non Fiction, and a delicate pink sparkling wine named XC Method.
Shop Narrative Wines
Coming Fall 2023
Garnet Valley Ranch Winery
Just ten minutes from Summerland's town centre, Garnet Valley Ranch is a spectacular farm and vineyard surrounded by untouched native habitat. Our farm follows a rhythm that is set by Earth and its solar system, and is greatly influenced by the moon's cycles.
The Outlook guest centre on the property overlooks our farming enterprise with sweeping views of extreme land formations and the desert wildness that surrounds the site. Tours of the property are available by appointment only for club members and shareholders. Garnet Valley Ranch portfolio offers a traditional method sparkling wine, chardonnay and pinot noir that showcase this rare and special place.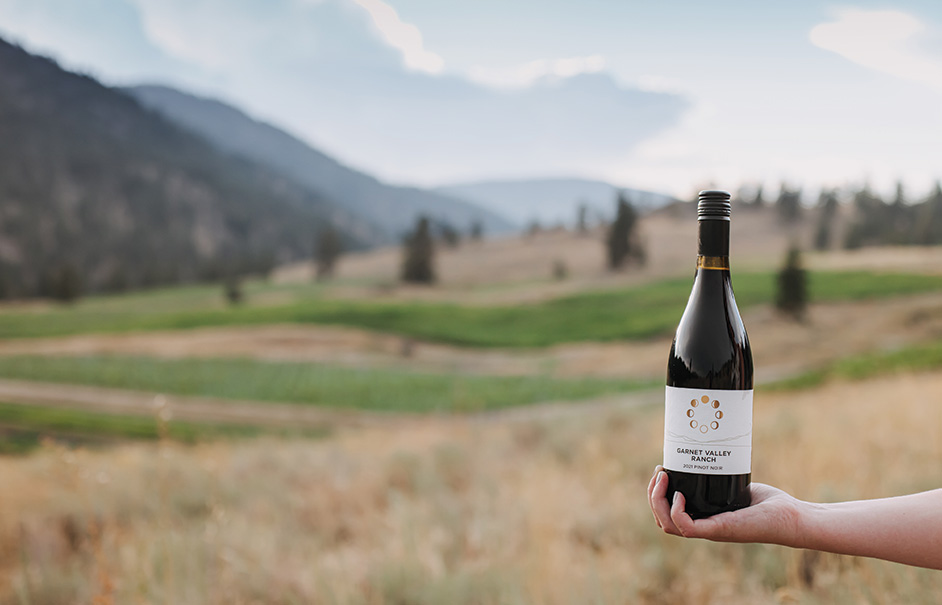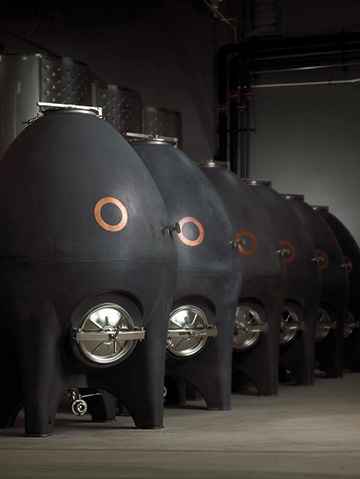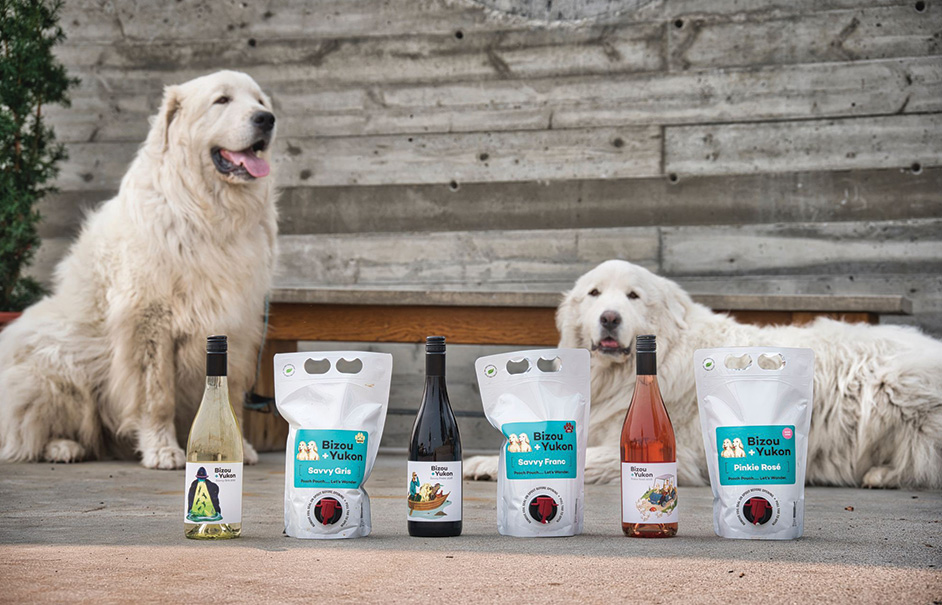 Fun Loving Wines
Bizou + Yukon
Bizou + Yukon are two fun-loving Great Pyrenees who had a distinguished career guarding Garnet Valley Ranch and every animal, human and critter that lives there. For years they diligently patrolled the fence line, barking at birds flying overhead, bees attempting to pollinate and importantly, calling warnings to coyotes to keep their distance. Great Pyrenees are nocturnal, giving them plenty of time to snooze in the shade during the day and ensuring they are fresh and full of energy at night when invaders lurk.
Now in semi-retirement, Bizou + Yukon can be found off-season lounging indoors next to the fireplace at The Ranch House. Spring and Summer finds them back on the job keeping us all safe. Like Christine and Steve, Bizou + Yukon have launched their own series of wines.
Bizou assumed the role of creative director, designing a series of colourful labels that depict the shenanigans that go on at The Ranch. Yukon took on the serious task of wine testing and blending. You will find a white and red blend, a rosé, a sparkling wine, and wines offered in 1.5 litre pouches, handy for camping, boating and road trips.
Shop Bizou + Yukon Wines