Living Vessels
Raised in Concrete™
At Haywire Winery, we extensively use concrete vessels. The first six tanks arrived in 2011 with the construction of the winery, then known as Okanagan Crush Pad. Since then, we have added more and even built our own. Today, our concrete collection of 40 tanks ranges in size from 300 litres to 5,000 litres and come in various shapes. Concrete tanks are the perfect vessel for the style of wine we aim to make. The central Okanagan area is the ideal place for cool climate varieties such as pinot noir, gamay, pinot gris and chardonnay. We don't rush the winemaking process, using low intervention methods to create fruit-forward wines with a fuller textured mid-palate and a finish that goes on and on.
In With the Old
Using Concrete to Express Terroir
In 2011, when constructing the winery building, the team had the opportunity to put the very best equipment and technology into its new facility. At the urging of consulting winemaker Alberto Antonini, they conducted extensive research and came to understand that using concrete fermenters was an old school technique that is enjoying a renaissance in today's new tech-savvy world. Concrete has been used for centuries in winemaking but was more or less abandoned with the arrival of stainless steel. According to Alberto, concrete vessels are alive while stainless steel offers a neutral surface for wine to interface with. Stainless steel tanks and oak barrels have their place in our cellar, but the main attraction is concrete.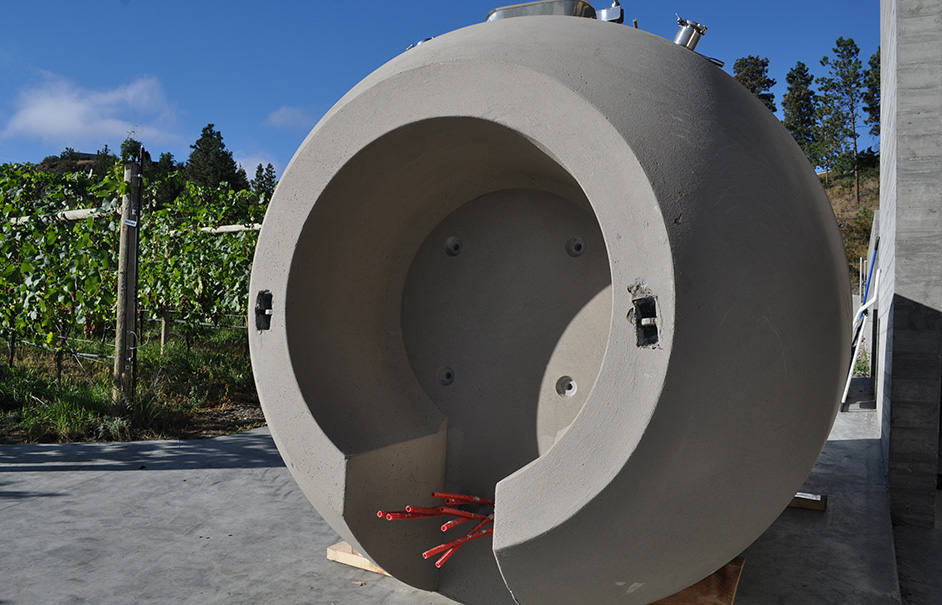 In 2011, we were the first winery in Canada to use a new type of concrete tank; six 8-foot-tall sleek black "eggs" arrived in time for our first harvest in our new cellar. These tanks take a forward-thinking approach, using temperature control tubing that is embedded into the walls of the eggs (the same technology used in concrete for radiant heating and cooling). This provides even temperature throughout the tank and no parts that require cleaning come into direct contact with the juice. With features like a manway opening at the top, a pomace port at the egg base for easy removal, racking valves, and a thermowell, these concrete eggs are perfect for making premium quality wine. The following year we added more concrete tanks from Italy, and in 2020 we made six of our own concrete tanks for wine trial purposes.
The Reasons
Why Concrete?
High thermal mass. Within thick concrete walls, a fermenting wine's temperature rises and falls gradually, which is gentler on the wine. The concrete doesn't allow the fermentation to get too hot, but is cool and consistent. This has a very positive impact on the aromatics of the wine.