Join Us in Giving Back to Our Community!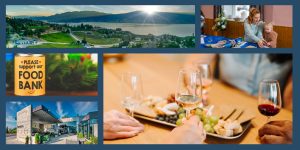 At Haywire Winery, we believe that the joy of wine should extend beyond our vineyards and into the heart of our community. That's why we're thrilled to announce a special initiative that allows you to indulge in your passion for wine while making a meaningful impact.
Starting from September 12th through November 18th, we're dedicating ourselves to a noble cause. 50% of all tasting fees at Haywire Winery will be donated to the local Summerland Food Bank, helping those in need during these challenging times. Your sips become an act of kindness!
In addition to monetary donations, we will be collecting non-perishable food items. You can find the Foodbanks Wishlist here.