It's been an exciting start to 2023 at Okanagan Crush Pad: after 11 years running Canada's first purpose-built custom crush winemaking business successfully, the team is saying goodbye to its original business model by renaming to Haywire Winery.
When Okanagan Crush Pad opened its doors, the winery was constructed with a capacity much larger than what was needed for Haywire, with the intention of sharing the space until its own production grew. The available space was used to incubate other BC winery startups.
The custom crush service offering has run its course for the team as sales of their own wines have grown and now house brands have taken over the production space that was previously used for clients. Over the past five years the team has been actively reducing custom crush as they move towards capacity.
Along its 14-year-history of vintages, Haywire has grown from a tiny virtual wine to become the anchor brand in the Okanagan Crush Pad portfolio of wines, with recognition across Canada and in Europe.
Now, with this change in winery name, Haywire takes the well-earned lead role as headliner.
The winery, which closed in 2022 and has been under renovation, is set to re-open this coming spring, with a new 1,500-square-foot modern tasting lounge, a bold new label for Haywire and a return to its roots with the wine that started the journey in 2009.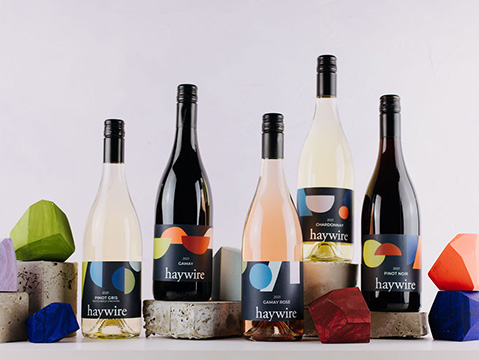 "The rebrand is a statement to our commitment to continue to take bold new steps forward as a winery team, and to continue to define a style of wine for the central Okanagan region – bright, lively, fresh, and uncomplicated," says Haywire Winery co-owner Christine Coletta.
"Be sure to look for our new Haywire labels, which will be released starting in BC and in the UK later this month. The new packaging pulls from the mural artwork on the winery by Vancouver artist Scott Sueme. It's a stunning mural that runs 100 feet long and 20 feet high."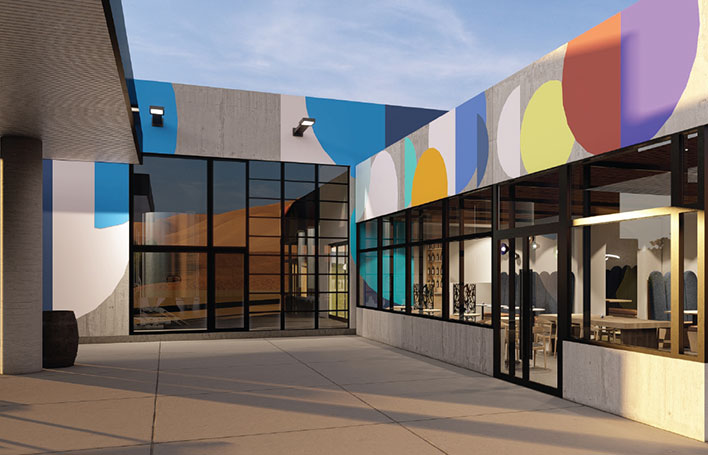 The New Haywire Winery Tasting Lounge and Experience
Again, Scott Sueme's work inspires the look, with the interior of the tasting lounge designed to celebrate his artwork, and even a few of his original pieces on display. "The word "lounge" is also particularly important," explains Coletta. "Guests will sit back and relax as we take care of them tableside."
The new Summerland winery lounge is adjacent to the crush pad and wine cellar, giving visitors ringside seats to the winemaking action, while allowing the Haywire team to serve visitors in comfort year-round.