This refreshing Halibut Citrus Ceviche is the perfect summer snack. Fresh halibut is marinated in a mix of citrus juice, avocado, jalapeno, and a splash of Haywire Chardonnay. Serve with a bowl of tortilla chips and a chilled glass of Haywire Chardonnay and enjoy with your friends and family!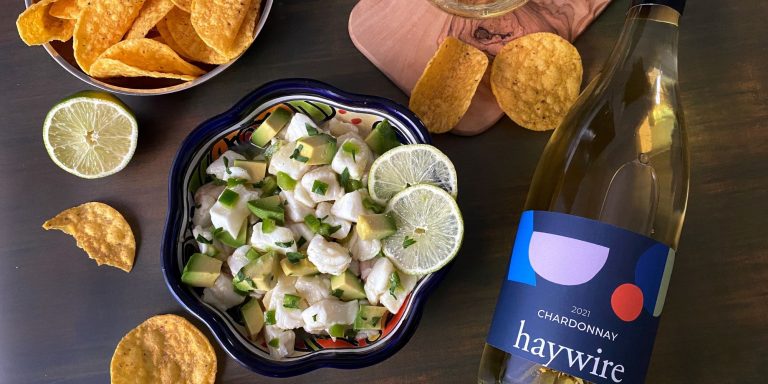 Recipe and Images by: Melissa Leung – Season and Serve Blog
Serves: 4
Prep Time: 20 minutes | Marinating Time: 3 hours  | Total Time: 3 hours 20 minutes
Ingredients:
1 pound (450 g) fresh halibut fillet, skin removed
1/3 cup fresh lime juice (from ~3 limes)
1/2 cup fresh lemon juice (from ~2 lemons)
1/3 cup fresh orange juice (from ~1 orange)
¼ cup Haywire Chardonnay
¼ teaspoon sea salt
¼ teaspoon ground black pepper
1 tablespoon olive oil
2 large jalapenos, finely chopped, seeds and membrane removed
1 large avocado
3 tablespoons cilantro, finely chopped
Tortilla chips, for serving
Directions:
Use a sharp knife to cut the halibut into 1-cm cubes. Add the chopped halibut cubes to a small glass bowl along with the lime juice, lemon juice, orange juice, Haywire Chardonnay, salt, pepper, olive oil, and jalapenos. Mix to combine, cover with plastic wrap, and refrigerate for 3 hours.
Stir the ceviche every hour to distribute the liquid and to fully cook the halibut. After 3 hours, the halibut should be an opaque white colour, which indicates that it is cooked. Once cooked, strain the citrus juice from the ceviche.
Chop the avocado into 1-cm cubes and add it to the ceviche along with the cilantro. Mix to combine and serve chilled with a bowl of tortillas and a glass of Haywire Chardonnay. Enjoy!